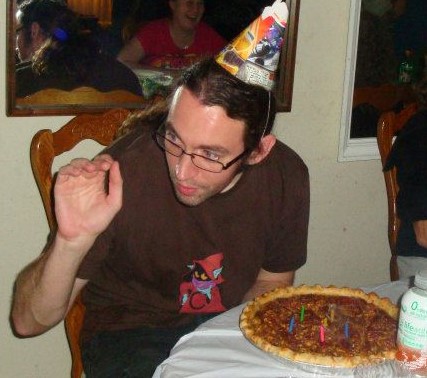 I sent this to customer service.  I will update if I year back from them.
Hello, I am a 34 year old man who loves pecan pie.  Up until 2 years ago, I always had a pecan pie for myself and my guests to enjoy at my birthday party that I host for family and friends every November 15th.

2 years ago, I entered a local Costco to pick up a pecan pie on the 14th, and was told that they wouldn't be ready for a couple of days.  I was deeply saddened and feared that my tradition of enjoying pecan pie with family and friends would come to an end because of some apparently arbitrary change in the baker's schedule at Costco.

Fortunately, my wife is a superhero, and suggested that we attempt to obtain a pie tin from the Costco bakery, which they provided free of charge.  My wife proceeded to make an amazing pecan pie and saved the day.  That being said, it would be nice if Costco could make even just one pecan pie for me to purchase and pickup by the 15th of November.

P.S.  I honestly can't figure out why Costco doesn't just make them year round.  They are good any time of year, not just the last two weeks in November.  The only reason I don't eat more pecan pie is because no one makes them except for once a year.  But at least if you're only going to make it once a year, make it for the guy who has been waiting the whole year for it.

Thank you for your consideration.
Update: Costco has emailed me back and had this to say,
Dear Orion, We appreciate you taking the time to email Costco Wholesale

We have forwarded your email to our local warehouse bakery for their review. Please follow up with the local bakery regarding your request.

Thank you,

Erika L

Member Service Center

Costco Wholesale Corporation
I don't think this is going to amount to anything.  I believe Costco and I are finished (with our long-running pecan pie relationship).
We don't need to wait for Costco since discovering our own Costco-style Pecan Pie recipe. 🙂
Update 11/14/2017 Something changed!
I went to my local Costco last night (November 13th) and they had about 7 pecan pies. I bought one! It's been years since they made them this early.
Once again, my wife was willing to make me a pie, but thanks to Costco's earlier-than-usual baking schedule, I can save her the trouble.