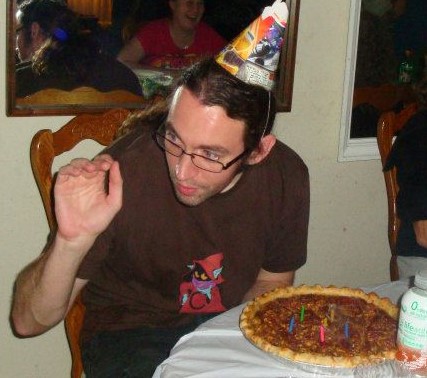 I love Pecan Pie!! I love Costco Pecan Pie!! For years, it was a tradition on my birthday in November to pickup a giant Costco pecan pie and share it with my pecan-loving friends and family. Costco broke that tradition by moving their bake schedule a week later to after my birthday.
In dramatic fashion, I let Costco know what I thought. It has been fruitless.
My wife now bakes the pecan pies in our house, and we don't have to wait for Costco to decide that "it's time" to make them. We can have them all year long. Who else thinks it's stupid that pecan pie is seasonal? Like it doesn't taste good in June? Come on!
Anyway, it's really easy to make Costco-style pecan pie. First off you need some Karo Corn Syrup or whatever corn syrup substitute you use. We use straight-up corn syrup and we're not afraid of it. As long as you don't live off of it it's not going to hurt you (moderation, friends).
The recipe is right on the back of the Karo bottle.

For pie crust we use the ever-classic Martha Stewart Perfect Pie Crust.
---
Pecan Pie Recipe
Preheat Oven to 350°F
Bake Time: 60 to 70 minutes
Servings: 8 (not enough)
1 cup Karo Light Corn Syrup
1 cup sugar
3 eggs
2 Tbsp. butter, melted
1 tsp. vanilla extract
1-1/2 cups (6 ounces) Costco pecans (Kirkland)
1 unbaked 9-inch deep dish pie crust
High Altitude Adjustments:
Reduce sugar to 2/3 cup and increase butter to 3 Tbsp. Reduce oven temperature to 325°F.
Step 1. Stir the first 5 ingredients thoroughly with a spoon.
Step 2. Mix in the pecans.
Step 3. Pour the wonderfulness into the pie crust. Warning: It looks weird and like you messed up at this point. But the pecans will magically rise to the top and it will look like brilliant pecan pie after baking.
Step 4. Bake the amazement on the center rack of your oven for 60 to 70 minutes.
Step 5. Cool the magma pie in the refrigerator for 2 hours.
Tips: Pie is done when the center temperature reaches 200°F. Tap the middle of the pie gently. It should have a bit of springiness to it. If crust is over-browning, cover the edges with aluminum foil.
---
I think this recipe serves as a worthy substitute for the genuine Costco Pecan Pie. It's definitely smaller, but you can just make more pies. One per person sounds about right to me.