Update: Marathon screwed me I hate this achievement and regret the amount of time I spent trying to conquer this piece of crap so much that I can't punctuate correctly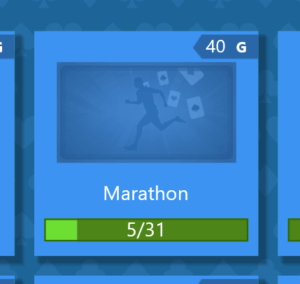 Windows 10 officially launched July 29th, 2015. It comes with some great new features, but the one that has me the most enthralled is the Microsoft Solitaire Collection. I don't know why these simple card games are so appealing, but since Windows 3.1, we have been fascinated with Solitaire, am I right?
The Microsoft Solitaire Collection has something for every Solitaire fan. From the classic Klondike Solitaire, to TriPeaks, to Spider, FreeCell, and Pyramid, there is plenty here to feed your Solitaire addiction.
And for the rest of the month of August, I pledge to be addicted to Solitaire for Windows 10. Why? Because of this stupid Achievement, "Marathon". For those of you that don't know, Achievements are little digital "badges of honor" that you unlock for doing various tasks in a game or app. They are programmed in by the developers of said games. Sometimes, Achievements are unlocked for something simple like trying a new mode, or beating a level. Other times, Achievements are used to mark doing a great amount of something, like the Blizzard of Bliss achievement in Microsoft Solitaire Collection.
Still, other achievements are both quantity and time-based. This is where this cursed Marathon achievement comes in. The description for is particular achievement reads "Come back each day of an entire month and complete at least one Daily Challenge". So not only do I have to do a minimum of 31 daily challenges, I have to do them consecutively. And not only consecutively, but in the same calendar month. This is ridiculous! If I miss a daily challenge, then I have to wait until the next month to try again!! Madness.
Yet for some reason, I am going to attempt to dedicate a few minutes of each day until August 31st to beating a daily challenge just to get that virtual pat on the back.
Update: So, it's August 31st and I faithfully completed a daily challenge every day of the month in hopes of completing the Marathon Challenge and getting the STUPID achievement for my troubles.
After completing the INANE challenge, I received no achievement, so I went to check my challenge progress and saw this miserable visual.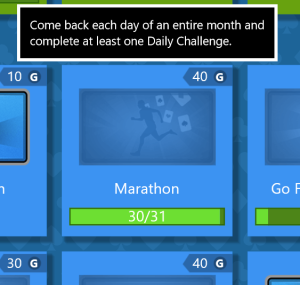 Yes that says I have 30/31 daily challenges completed. Oh really Stupid Solitaire game? Is that right? Then what do you say to this?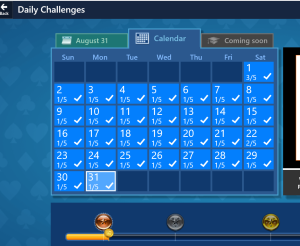 That says I did at least a daily challenge for every day. And my anger should tell you that I did them on the day they were assigned, because I set my stupid calendar to remind me to do the dumb daily challenges.
So, to literal heck with you Microsoft Solitaire. Apparently you thought I skipped a day somewhere in that 31 day month. But you probably got paid for every ad video I watched through that 31 day month just to get to the daily challenges!