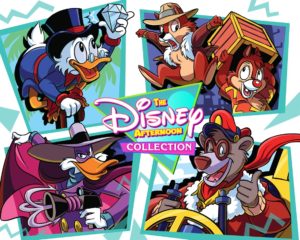 In the NES days, I was a fan of the Disney afterschool cartoons. I watched every episode of Darkwing Duck, Talespin, Rescue Rangers, etc. that I could. As a young gamer, it was only fitting that I wanted to play these cartoon adventures in video game form.
Capcom was always there to capitalize on my fandom with well-made games. My sister (6 years younger than I) and I played through all of Chip 'n Dale Rescue Rangers in co-op, multiple times. Sure, there were sections that I needed to pick up her character and carry her through (which always made her angry), but we did it together.
Ducktales was remastered in HD several years ago, and apparently it sparked something in my generation. Gen X/Y gamers who grew up with these Disney classics were thirsty for more. And now Capcom has answered our call.
Capcom has announced The Disney Afternoon Collection and it's coming for Xbox One, PS4, and Windows 10. From the press release, it includes these 6 games:
Chip 'n Dale Rescue Rangers – This classic lets players team up with a friend in co-op play as they assume the roles of the mischievous Chip and Dale as they take on memorable villain Fat Cat and attempt to solve the mystery of a missing kitten.
Chip 'n Dale Rescue Rangers 2 – Fat Cat has escaped and his plans are even more dastardly this time. The titular heroes and supporting cast Monterey Jack, Gadget, and Zipper must stop Fat Cat from his evil dream of world domination!
Darkwing Duck – Play as the original caped crusader and fight a city full of criminals from the infamous F.O.W.L. organization in this action-packed platforming epic.
DuckTales – In this iconic platforming adventure, players help Scrooge McDuck fill his feathery pockets with vast riches from across the world.
DuckTales 2 – The sequel to the original game comes jam-packed with more action and an even bigger caper set in new locations like the Bermuda Triangle and Niagara Falls!
TaleSpin – Take to the skies as Baloo the bear navigates his plane through exotic and dangerous locations in this side-scrolling shoot-em-up
It's launching April 18, 2017 for $20. Seeing as I never played a couple of these, this is probably going to be a "buy" for me. I'm hoping the Xbox One and Windows 10 versions are Play Anywhere.
It's time to see if my sister wants to go take down Fat Cat with me again.