Many families have traditions of friendly mythical beings that visit the house on special occasions to impart treats to children. Common folklore includes Santa Claus, The Easter Bunny, and The Tooth Fairy.
Parents pretend that these 'people' exist for a variety of reasons. Many parents like to "keep the magic" of the tradition alive because their parents did them and they remember them as fun. Personally, I'm a bit of a buzzkill when it comes to these traditions. But there is one tradition I kept for both of my children, The Tooth Monster.
The Origin of The Tooth Monster
The Tooth Monster, as an alternative to The Tooth Fairy, doesn't go back all that far. Unlike the legend of the Claus and the Easter Bunny, Tooth Monster comes from the modern era. It's difficult to market The Tooth Monster, since he is a bizarre, unpleasant looking fellow. Because of this, Tooth Monster is not the product of the commercialization of holidays and is not a Hallmark creation.
Tooth Monster's origin is not of greed nor capitalism, but rather of dignity and self-respect. My wife and I had our first child, a son, in 2001. In a few years time, he neared the time where his baby teeth would begin to fall out to allow adult teeth to grow in. This is where the Tooth Fairy hype began.
Seemingly everyone would engage in the hype. "The Tooth Fairy will be coming soon". Grandparents, aunts, preschool teachers and classmates; everyone seemed excited for the arrival of The Tooth Fairy.
Finally, the day came where my young son lost his first tooth. We prepped him for bed that night as usual but with the addition of wrapping his tooth in a tissue and putting it under his pillow. Since I am not all that excited about these traditions, I just played along passively and unenthusiastically.
Now I had just expected my wife to carry out the tooth fairy's responsibilities, since she was all aboard the hype train from the beginning. I was surprised when she asked me if I wanted to "be the tooth fairy". "Umm…" was my initial response. I could be a Santa, or even a bunny, but something struck my masculine pride when invited to be a "fairy", even if it was of the tooth variety.
I believe it was intended to be some sort of honor that my wife bestowed upon me to ask if I wanted to be the TF, though it may have been nervousness. I agreed, but was still uncomfortable with the moniker.
In the morning, our son woke and checked under his pillow to see if the tooth had in fact been replaced with some sort of prize or treat. He was excited to find the tooth gone and some candy and, I think 5 bucks, in its place. When he shared with me "look what The Tooth Fairy brought me", I said "Oh, that was actually The Tooth Monster that brought that."
He looked like I was trying to prank him or something. He told me "Noooo, The Tooth Fairy." I just let him know that Tooth Fairy was unable to make it last night so her helper Tooth Monster came instead. He accepted this. For most years to follow, Tooth Monster did the teeth gathering at our house.
I always tried to be overtly tongue-in-cheek with our fable of The Tooth Monster. I didn't want a harsh letdown when he would eventually find out that his parents were actually the ones stealing his teeth and pumping him full of sugar.
Developing The Tooth Monster
The Tooth Monster was now "a thing". The wife was amused, the child entertained, my masculinity retained, phew. Toothy Monster went for several years without any additions to his lore. He just 'was'. But ole' Toothy needed a backstory, an M.O.
For our second child, G, The Tooth Monster got some depth and a raison d'être. She was probably around 6 years old and was aware that I was TM, but maybe still uncertain. She had that sort of twinkle about her, where she seemed simultaneously proud to be in-the-know, yet cautiously hopeful.
To add to the fun, I started writing her notes from The Tooth Monster and left them with her prize under the pillow. She loved receiving notes from TM and she still saves them in her jewelry box. This is when Tooth Monster became far better than Tooth Fairy, and I added to his mythos.
Signed, The Tooth Monster
Writing notes as TM took longer than I expected because I "meticulously" wrote every letter with a jagged scrawl to give a hint of terror to the words. I wanted them to look look like they were being grumbled by a curmudgeonly troll-like figure. I wanted them to be legible to a young reader but still obviously written with poor penmanship.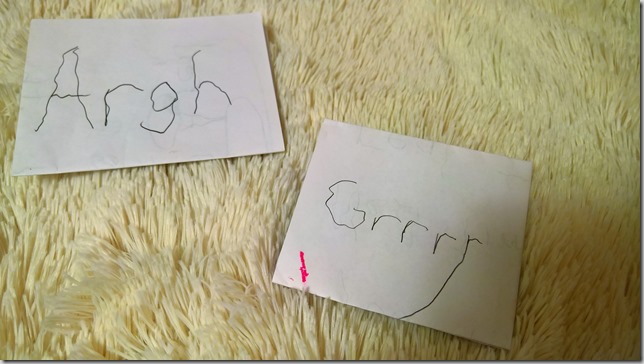 No one knows what The Tooth Fairy looks like. But I had already broken so many traditions with Tooth Monster, why stop now? It was time to give Tooth Monster a face. Warning: I'm not much of an artist, but I mean well.
In this note, Tooth Monster was relieved to find a tooth under G's pillow. The previous visit, her tooth was absent, having been thrown into the trash by mistake. TM felt tricked before (but still left a prize). I wanted to hint in this note that The Tooth Monster was actually saving up G's baby teeth and using them as his own. I thought this was a slightly creepy, yet funny twist on the Tooth Fairy shtick (I actually don't know why The Tooth Fairy collects teeth!). G and my wife's awkward laughter upon reading the note the following morning let me know that it was both creepy and funny.
The tradition continues…?
I don't know if either of my children will try to keep the Tooth Monster tradition alive. It seems sad that it only last one generation. But it's ok if it does, it has served its purpose.
What do you think of The Tooth Monster? Do you prefer the more traditional Tooth Fairy?
Let me know what you think in the comments. Take care!