What's in the Box?
Inside the well-designed package (I love the packaging on high-end tech devices) is:
The Razer Atrox controller
A joystick ball top
A joystick bat top
A 4 m/ 13 ft. braided USB cable
2 Razer logo stickers
The manual, a welcome card, who cares let's hook this thing up!
Construction/Build Quality
First thing, this sucker is heavy. The thinking generally goes, weight is often an early indicator of quality. But in the case of an arcade fight stick, weight is a nice addition for other reasons. A heavier stick will stay put on a table or desk better, just as a result of its mass and the laws of physics. But it's completely comfortable on a lap. The Atrox has a flat bottom with a non-slip padding, very comfortable. It won't slip around during play on either lap or tabletop.
The controller is mostly a box with buttons and a joystick, but it's a sturdy box. It feels like it will last forever as long as I long as I don't drop it from an excessive height or get it soaking wet. I don't think it has a NEMA rating whatsoever.
Internal components
Sanwa. I just want to get that out there early, since it's considered to be a selling point. The joystick feels amazing right off the bat. No need for breaking it in. There is a satisfying click as you move the joystick in any direction. You can hear the switches close and open as you let off, it's almost musical.
The joystick's spring return is strong but not overly. You definitely don't feel like you are fighting the stick. The throw isn't very long, so it's easy to move from one direction to it's opposite very easily.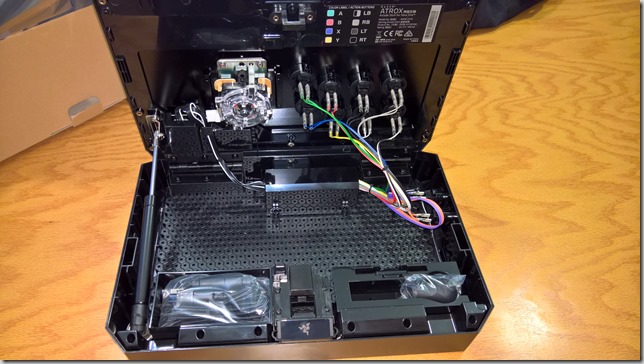 The buttons are smooth, slightly convex (domed) and wide. They have a very light action and can trigger even if you are gently touching them with no intention to press them. Like the joystick, they return to rest position very quickly. There is no "stickiness" to the buttons at all. Fast response, short/medium travel distance.
A front button releases the latch that allows you to open the Atrox and get to the internals. From here you can swap out any of the Sanwa parts with replacement parts. Access to the controls internals allows you to modify the Atrox however you like, provided that you have the skills to do so. The customization options are great, but the out-of-box setup will suffice for most non-professionals.
Features
The Razer Atrox is a wired controller, but the 13 ft. long cord with breakaway means you can still play across a reasonably sized living room.
The non-slip padding on the bottom is perfect. It's comfortable on lap and tacky on a table.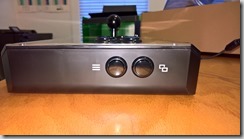 There is a lock/unlock switch which prevents the side buttons (menu and view) from being pressed when in the lock position. I didn't understand this until my son bumped the side of the controller while I was playing on the couch and paused the game (offline, fortunately).
There is not, unfortunately, a headphone jack. So you'll need either another controller with a headset plugged in, or an Xbox One wireless gaming headset if you want to talk to your opponents or chat in a party while using the Atrox.
Putting it to use
On Xbox One
With the Atrox plugged in, I was ready for some Killer Instinct. I struggle to do quarter-circles on a gamepad. I am maybe 70-80 per cent accurate with no pressure on. The Atrox makes quarter-circles (hadouken) and z-motion (shoryuken) gestures fun. I still get smashed by most opponents online, but I have much to learn in the dojo still. With the Atrox, I'm having fun, and that's the big thing for me. I hate missing a fireball because of the controller. I'm ok with missing it because of my lack of skill.
Along with Killer Instinct I tried the controller with Tekken Tag Tournament 2 (alliteration much?), which is a backwards-compatible Xbox 360 game. I was pleased that the Atrox is compatible with Xbox 360 games on the Xbox One too.
Non-fighting games
One question I had before picking up this new arcade stick was "Does the Razer Atrox work with non-fighting games?" It seemed like a dumb question, but I could find no mention in any other reviews of anyone playing anything other than fighting games. I'm here to answer the question definitively, yes!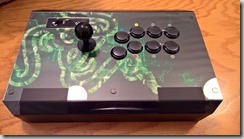 The Atrox joystick input seems to be recognized as a standard D-pad. This means that any game that allows D-pad control should work with the Razer Atrox. That means that platformers like Shantae and Shovel Knight are fair game.
After Killer Instinct I loaded up Raiden 5 to relive my youth playing SHMUPs on arcade cabinets. Games like Raiden always feel better with an 8-way joystick. It felt right at home on the Atrox.
On PC
The Atrox works on PC with the added stipulation that you are using a game supported by the Xbox One App. Since Killer Instinct is cross-buy and cross-platform, it is the perfect test subject for me to try the Atrox on the PC.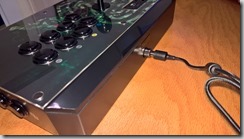 I literally plugged the Atrox into my PC (Surface Pro 4), launched KI and played it. It was dumb easy.
As I understand it, Steam games and other Non-Windows Store games don't work with the Atrox. I haven't tried this to confirm it yet. I'll update this if I do.
Conclusion
It's a beast, but it's pricey. If you want a solid, well-built, customizable arcade stick for Xbox One and PC (UWP apps), it's hard not to recommend the Razer Atrox.
Tell me what you think. Is there something I forgot to cover in my review? Let me know in the comments.
God bless and game on!