Today I received an email from Xbox. I get a lot of marketing emails from them, so I wasn't surprised, but this one was different than usual. It's the end of the year 2016 and Xbox was doing their best to make me feel proud to be a member of Team Xbox. So they sent me a "personalized" coat of arms to, I don't know, make me feel cool?
The crest reads TOOLOFGOD (my gamertag), and at the bottom, "XBOX ELEGIT ME". The coat of arms also has a bunch of symbols representing my "most epic accomplishments this year".
Well, thanks Xbox. But what does "Xbox Elegit Me" mean? A trip to bing translator tells me it's from the Catalan language and means "Xbox elected me", or probably, "Xbox chose me". Catalan is probably the closest thing to Latin, which is what I believe they were going for on a crest of this kind.
The symbols are mildly representative of my last year of gaming. There are guns and a grenade, which I guess means I play shooters (I do). There are also swords (rpgs, I guess), jet fighter planes (I have no idea, I played a bit of Elite Dangerous, but that's space ships. Xbox Doesn't even have any good flying games inside earth's atmosphere), and a dragon (I played 3 hours of ESO). But then they add a soccer ball to the crest…is that supposed to represent Rocket League? I played zero soccer games unless you count Rocket League. Interesting.
Also interesting is the stat that shows that I am in the top 1% of achievement earners. I feel like this says that I should engage in other activities besides video games more often.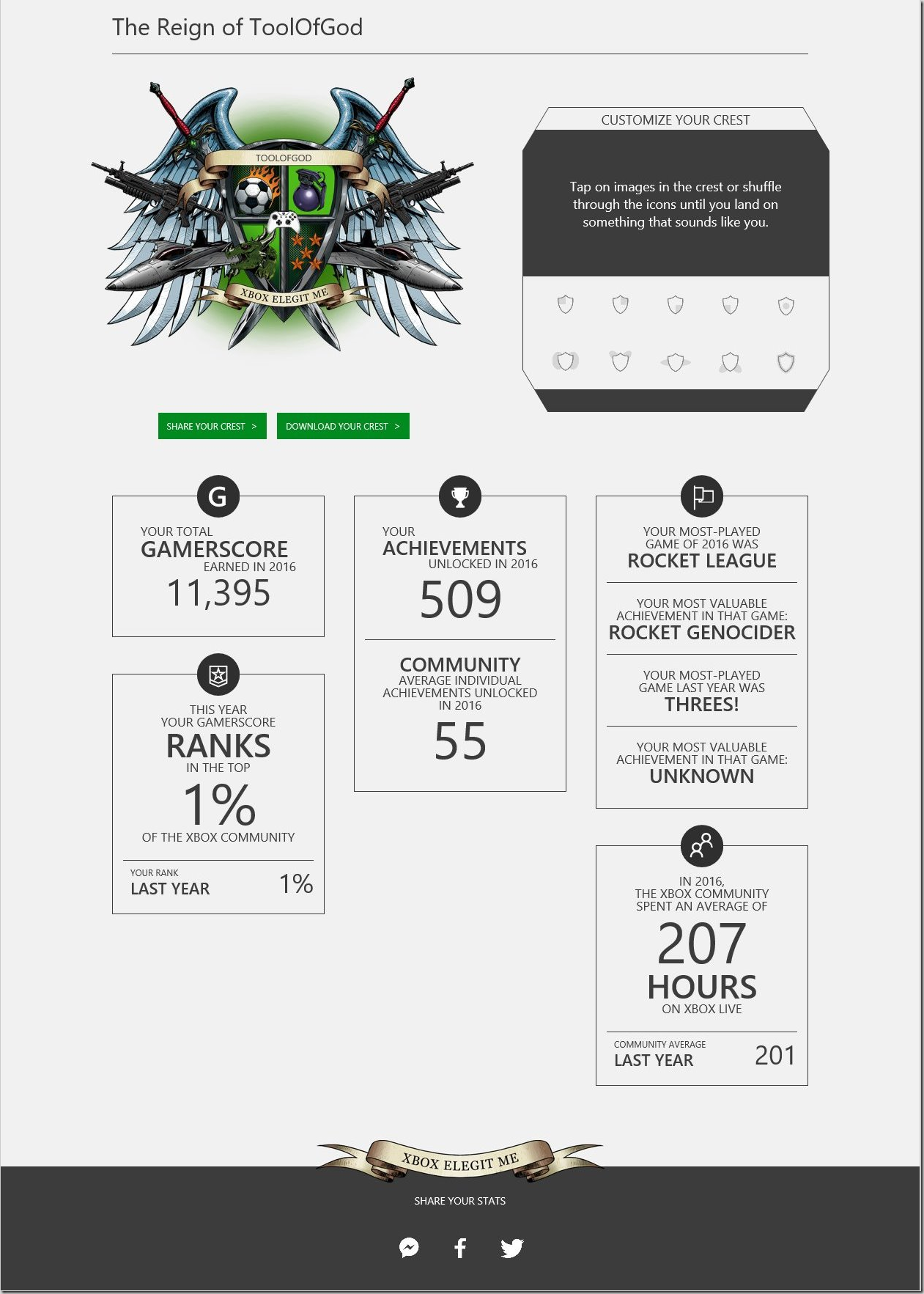 One final note on the phrase "Xbox Elegit Me". It's an interesting bit of language (besides being foreign). It says that Xbox "chose" me. This harkens, albeit unintentionally, to how God calls (or chooses) us. It's an awesome concept theologically and full of controversy. But how cool is it that God chooses us and wants us to fellowship with him.
Thanks for "choosing" me, Xbox. We're cool. But I'm more honored by being chosen by God.